Why Restoration is the Best Franchise Industry
By opening a franchise you have the freedom to work for yourself and control your economic growth, but to be a truly successful entrepreneur you must select the right industry that fits your needs, lifestyle, and is stable through variable economic conditions. So why restoration? Well, by joining the $210 billion restoration industry and specifically 911 Restoration, you'll be able to take advantage of benefits liking being part of a recession-proof industry, getting support from an experienced franchisor, and making a difference in people's lives. Let's go more in depth as to why the restoration industry is the best one for franchising:
The Restoration Industry is Recession-Proof
What makes the restoration industry such an appealing market for entrepreneurs to invest in is the fact that restoration sector is essentially recession-proof. Currently, the restoration industry is a $210 billion industry, and growing, due to aging home infrastructures, worsening storms, increases in wildfires, and frequent flooding due to global warming. In the U.S alone there are $170 million in commercial losses and $40 million residential losses reported each year as a result of these damaging effects. With the increase in natural disasters and extreme weather conditions, the restoration sector is in more demand than ever due to:
Structural Fires: every year, about 500,000 structural fires occur in the U.S. with 70 percent affecting residential properties.
Hurricanes: According to a study conducted by CoreLogic on U.S. coastal areas, nearly 6.9 million homes are at risk of damages caused by hurricane storm surge flooding. These numbers total about $1.5 trillion in damages.
Flooding: After residential or commercial flooding, it is advised that the areas be properly treated and dried within 48 hours to prevent hazardous mold growth.
Wildfire Damage: Throughout the western United States, 13 states have a high risk of wildfire damage, covering 900,000 properties.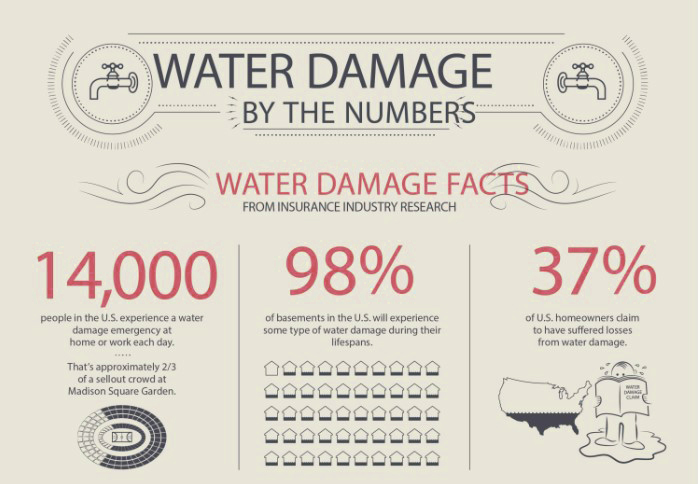 In addition to extreme weather conditions, regular home mishaps also contribute to the growing restoration industry. It's currently reported that up to 14,000 homeowners experience water damage daily. What's more, with water damage you not only have to restore the structure, but there's also an increased risk of mold growth. Of those 14,000 people, 37 percent of those claim to have experienced significant losses due to the water damage. Most commonly in residential water damage incidents, the cause was not due to current weather conditions, but instead by household fixtures including plumbing failures like leaks or frozen pipes, burst pipes, plumbing drain problems, toilet issues, and water heater or washing machine malfunctions. With so many causes of home damages and a growing need for restoration services, this fast-growing industry is one of the safest, most secure franchises to be a part of. Additional growth opportunities for restoration franchises also include the rebounding construction and development industry, the EPA's recommendation that mold remediation professionals address mold in areas larger than 10 square feet, and climate scientists predicting more and more unpredictable weather due to global warming. By joining this industry and the 911 Restoration franchise your growth opportunities are nearly endless, which is one of the benefits of the restoration industry, period.
Restoration Industry Benefits
Of all of the potential franchising opportunities available today, why should you consider joining a restoration company? Well in short, because all of the amazing restoration industry benefits. Many different franchise industries provide their own sense of individualism, support, and financial stability, but with restoration you also benefit from:
Industry Growth
Restoration is growing in many ways, mostly due to the recession-proof nature of the industry due to increasing harsh weather conditions and global warming, as well as advances in restoration technology, techniques, products, and service. Because of this unmatched growth the restoration industry is a great prospect for both contractors with previous experience and entrepreneurs who want to invest in thriving sector.
Helping Others
You feel a sense of pride and personal accomplishment when you help others and that feeling only improves when you assist them during a personal tragedy. When a homeowner experiences water damage or a fire, many of their personal items are destroyed. Through the restoration process, you can personally help them get back several of their cherished items, make their home safe for themselves and their family, and restore their peace of mind. At 911 Restoration, this is what we call giving customers a "Fresh Start."
Easy Transition
Whether you have prior restoration experience or you're a newcomer to the industry but willing to learn, you'll find the transition is fast and easy. Contractors working in industries like carpet cleaning can benefit from already having existing equipment, manpower, and vehicles from their previous company. And even if you don't, the start-up costs are more than reasonable and you'll have an experienced restoration franchisor to walk you through the process of opening your new restoration franchise.
Expansion Opportunities
Due to the geographic reach of an average restoration franchise plus the increasing need for disaster restoration services, new franchise owners are able to quickly grow and expand their business in less time with the full support from a successful franchisor. This usually equates to more profit in less time.
As you can see, the benefits of the restoration franchise industry speak for themselves. At 911 Restoration, we're proud to be able to offer you all of these industry perks plus so much more.
Choosing the Right Restoration Franchise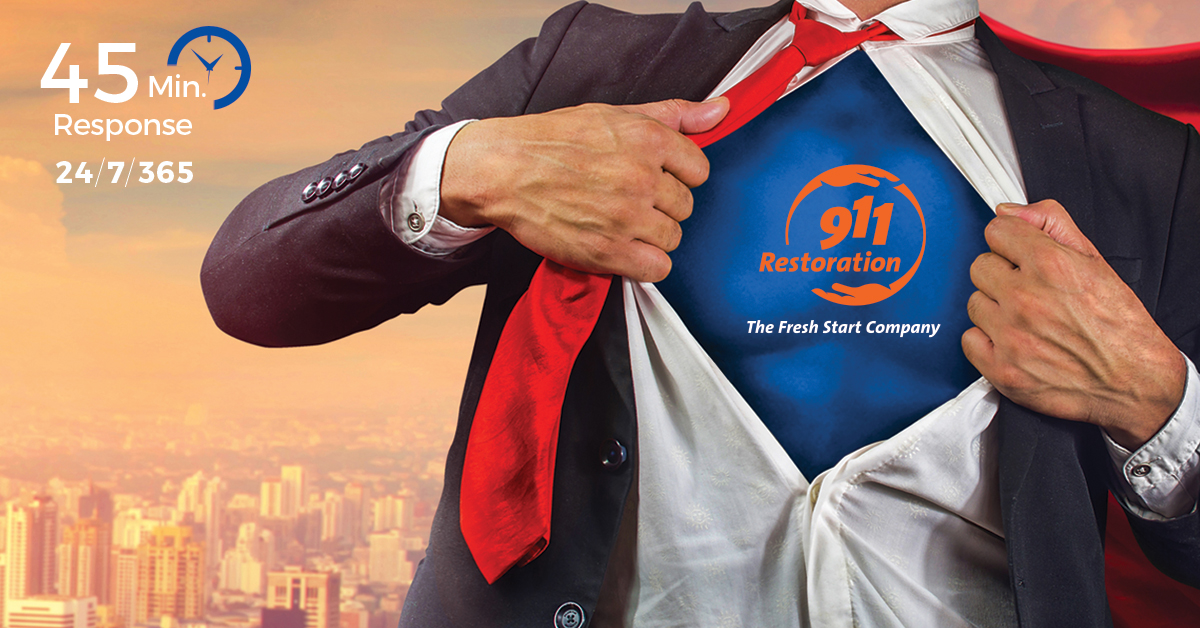 To ensure you're making the right career move to experience the benefits of the $210 billion restoration industry and have the financial stability, growth, and independence you seek, you need to select the right franchise to fit your needs and expectations. With so many franchising options available today, how can you be sure which one is the best? By trusting 911 Restoration with your future and career goals, you'll know you made the right franchise choice for the following reasons:
Recognizable Brand
911 Restoration is a nationally recognized brand for water damage, fire, mold, and disaster restoration services. When you begin a franchise with us, you'll start off with immediate name recognition and the right reputation. Our blue and orange colors are eye-catching and easily spotted by customers, and we're a name they've already trusted and relied on for their restoration services for years.
Franchise Growth
In the past year, 911 Restoration has claimed a large percentage of the $210 billion restoration industry and has grown — even doubled — our franchise locations throughout the U.S. and Canada from 65 to 132. Additionally, we are always growing as a company, constantly improving efforts and innovating bot h at the national and local level.
Innovation
What makes 911 Restoration special is that we never settle for ordinary or average — we're always looking to improve, innovate, and find better solutions for how to perform restoration services throughout the country. One example is our customized CRM system called Gazingle. By using Gazingle at our corporate HQ and local branches we now have easier job management, better communication & sharing tools, and more efficient lead gathering.
Network & Partnerships
Being part of the 911 Restoration team means that you'll also have complete access to our wide range of partners to ease your business operations. We have strong relationships with online giants like Google, Bing!, Yahoo, and Yelp to help with your online marketing efforts, for example. Additionally, our partnerships offer our franchisees better data collection, advancing training opportunities, financial assistance programs, and most importantly access to better leads via our large contract network.
When you invest in 911 Restoration, you're becoming a part of an extraordinary team and business model that is at the forefront of exciting opportunities and unparalleled growth. In fact, our franchise was recently recognized by Entrepreneur for our franchise success and growth, ranking #162 on the Top 500 Franchises list and coming in at #43 for the fastest growing franchises in the country. The only thing missing is you becoming a part of our franchise.
Explore Franchise Opportunities at 911 Restoration Today!
Begin the next chapter of your life and become an integral part of a growing, reliable, and innovative franchise with 911 Restoration. We offer all of our franchisees expansive growth opportunities, extensive training and resources, and the chance to make a real difference in people's lives. Learn more about the unique franchising opportunities available at 911 Restoration today by calling us at (877) 412-5549 or by downloading our free starter kit today!