911 Restoration Ranked #162 on Entrepreneur Franchise 500
With its 39th annual Franchise 500 ranking for 2018 just released, Entrepreneur has been putting together the world's best and most comprehensive list of the top franchises doing business for nearly four decades. As a restoration franchise who prides ourselves on things like operational support, business growth, and financial stability, being included in the rankings would be an honor in any year, let alone in 2018. Here's a look at how our franchise 911 Restoration stacked up:
Franchise Rank #162 and Fast Growing
Entrepreneur's prestigious Franchise 500 ranking is out for 2018, and we're excited to announce that our franchise 911 Restoration has been ranked #162 this year, putting us among the Top 5 restoration franchises in the entire country. Our entire Fresh Start family consisting of employees at 911 Restoration headquarters, local franchise owners, and their staffs know how hard we work every day, but it definitely feels nice to know that our efforts are being recognized by those outside of the company. Being ranked as high as #162 is an achievement we're extremely proud of, and shows how fast our franchise is growing. In fact, 911 Restoration has also been ranked #43 on Entrepreneur's Top Fastest Growing Franchises for 2018. To see where 911 Restoration and other franchises ranked this year, check out Entrepreneur's 39th annual 2018 Franchise 500 Ranking page.
Key Factors for Franchise 500 Rankings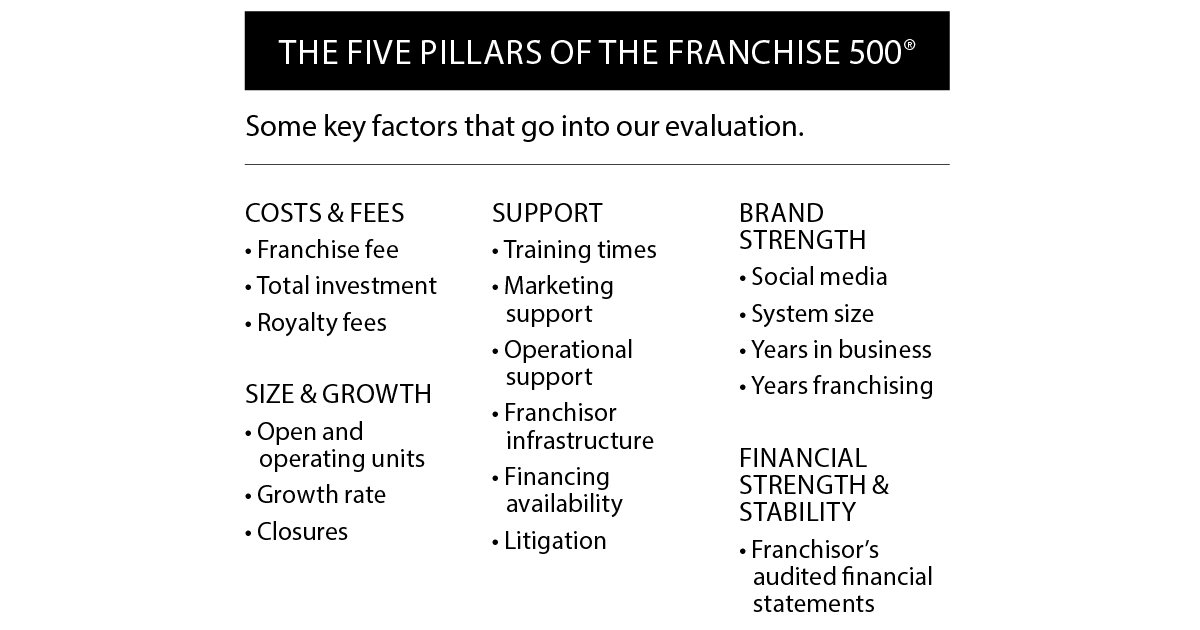 Entrepreneur states that 2018 was one of their most competitive rankings in its 39-year history, with more than 1,000 companies applying to be included on the prestigious list of 500. For reference, that is the first time in 25 years that has happened. This means that for potential investors and entrepreneurs looking to buy a franchise, there are more options out there than ever before. When determining who makes the cut of 500 and who misses it, Entrepreneur uses a proprietary ranking formula. They update this formula as the ever-changing and growing franchise world evolves over time. To the right, you'll find some key factors that go into their evaluation process. For a more in-depth look at the ranking process, Entrepreneur has a behind-the-scenes look you can reference on their website. 
A Strong Start for the Fresh Start Company
While we're ecstatic with our #162 franchise ranking for 2018, the accomplishment only makes us want to strive to rank even higher next year and every year going forward. After a successful 2017 here at 911 Restoration both in terms of sales and franchise growth, we expect 2018 do be even bigger and better as we focus on expanding our efforts even further. One of the ways we aim to do this is to find new franchisees in service industries like carpet cleaning, general contracting, roofing, plumbing, and painting who are a good fit for our business model and Fresh Start attitude. As the restoration industry continues to grow as one of the hottest trends in all of franchising, this according to Entrepreneur, we're constantly looking for new individuals looking to invest in themselves while also investing in their future.
Interested in learning more about owning a restoration franchise with 911 Restoration? Download our FREE starter kit to get started!