Restoration Franchise Opportunities in Manitoba
One of the Best Franchises to Own Full of Opportunity
Winnipeg ranks as the seventh most populated municipality in Canada. Located in a central location of Manitoba, it's no wonder why residents experience severe weather at times. From blizzards, intense rainfall, to flooding isn't uncommon.
But that doesn't stop residents from loving the geographical beauty Manitoba has to offer.
With a market in need of help during natural disasters creates a demand for restoration services.
The restoration franchise industry is valued at over $210 billion. And with the heightened effects of climate change over the past decades, that number isn't going anywhere lower.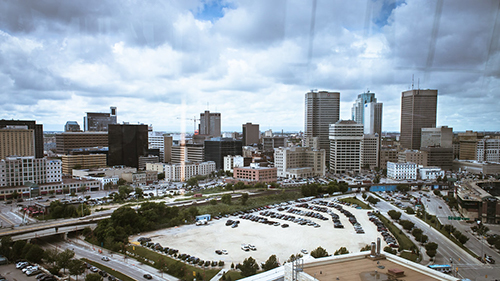 Never in a time in history has it been this exciting to be a Manitoba restoration franchise owner.
The possibilities to scale your profits are endlessly growing.
Come join one of the best franchises to own and apply within.
Restoration Franchise Opportunities in Manitoba Like No Other
The growth we are currently experiencing is proof that the restoration franchise industry prevails even in times of a pandemic. That's why 911 Restoration is seeking to bring our Fresh Start services to Manitoba to share with the community in need.
As a Manitoba restoration franchise owner, we'll ensure your success just as much as our customers' success. To ensure your success with one of the best franchises to own in Winnipeg, you'll have access to:
Our extensive network of business partners and qualified leads

Support, training, along with the top-notch tools

Assistance anytime from HQ and local branch owners
We also require all restoration professionals to be IICRC-certified. We'll help you with that. This way, your 911 Restoration franchise delivers nothing short of perfect.
Could you be Winnipeg's newest restoration franchise owner?
Call us today to learn more.
Give Back to the Community With a Fresh Start
With over 200+ franchise locations in North America, we stand strong behind all the communities we serve.
What's one thing all our 911 Restoration franchise owners have in common?
Simply, our Fresh Start Attitude.
And it's no wonder why all our customers love it.
There isn't one 911 Restoration franchise owner who doesn't embody our beliefs.
We believe a positive attitude to see opportunity in any disaster

We listen to all our customers and put their needs first

We inspire others to live their best lives

We respect every person we interact with
The Fresh Start way is the only way to get our customers back in running fast again with their spirits back high.
If you think the Fresh Start philosophy is something you exemplify, you may be a perfect match for Manitoba restoration franchise opportunities.
Talk to a franchise specialist today to learn more.
Open a New Restoration Franchise in Winnipeg
If you live in beautiful Winnipeg or the surrounding areas and are interested in potentially becoming a part of one of the best franchises to own, we'd love to hear from you.
Manitoba restoration franchise opportunities like this don't come by often. And we're willing to invest in driven and dedicated business owners like yourself for the success of yourself and your customers.
Call us today at 877) 643-5766 to begin the application process.
Join us as one of the best franchises to own in Winnipeg and apply today!