Recession-Proof Restoration by the Numbers: Southwest
There's just something alluring about the Southwestern region of the country, especially the coasts of California, that most people can't deny. However, this same weather that makes this region so appealing also means that a large portion of the country's population is susceptible to all sorts of natural disasters such as earthquakes, droughts, heat waves, flooding, and frequent wildfires. In fact, wildfires are extremely common in California, Nevada, New Mexico, Arizona, and Utah, with increasing conditions for fires affecting over 900,000 people. For some perspective, In 2017 there were over 66,000 instances of wildfires throughout the country affecting over 9.7 million acres of land. Additionally, overall, last year was the costlier year on record for natural disasters in the United States.
The disaster restoration field is the best industry to reduce the costly damages of frequent fires, flooding, droughts, and other disasters found throughout these Southwestern states. Just last year, home and business owners across the country reported $40 million and $170 million in losses, respectively. With global warming and climate change becoming a serious problem over the past few decades, the resulting extreme weather means restoration professionals are more in-demand than ever. Due to this reason, the disaster restoration industry is considered recession-proof and is currently valued at close to $210 billion, with a lot of those disasters and resulting damage occurring in the country's most populous state California.
California is our Nation's Most Disaster Prone State
California is considered the nation's most disaster prone state with over 78 natural disasters reported since 1953. In California, residents can expect a wide range of natural disasters caused by both global warming and human interference, including wildfires, flooding, mudslides, earthquakes, heat waves, and drought. While wildfires have been the most prominent topic for weather-related incidents in California lately due to the droughts and long, hot summers, with widespread fires causing $9 billion in damages last year alone, earthquakes are still the state's most dangerous and devastating form of natural disaster.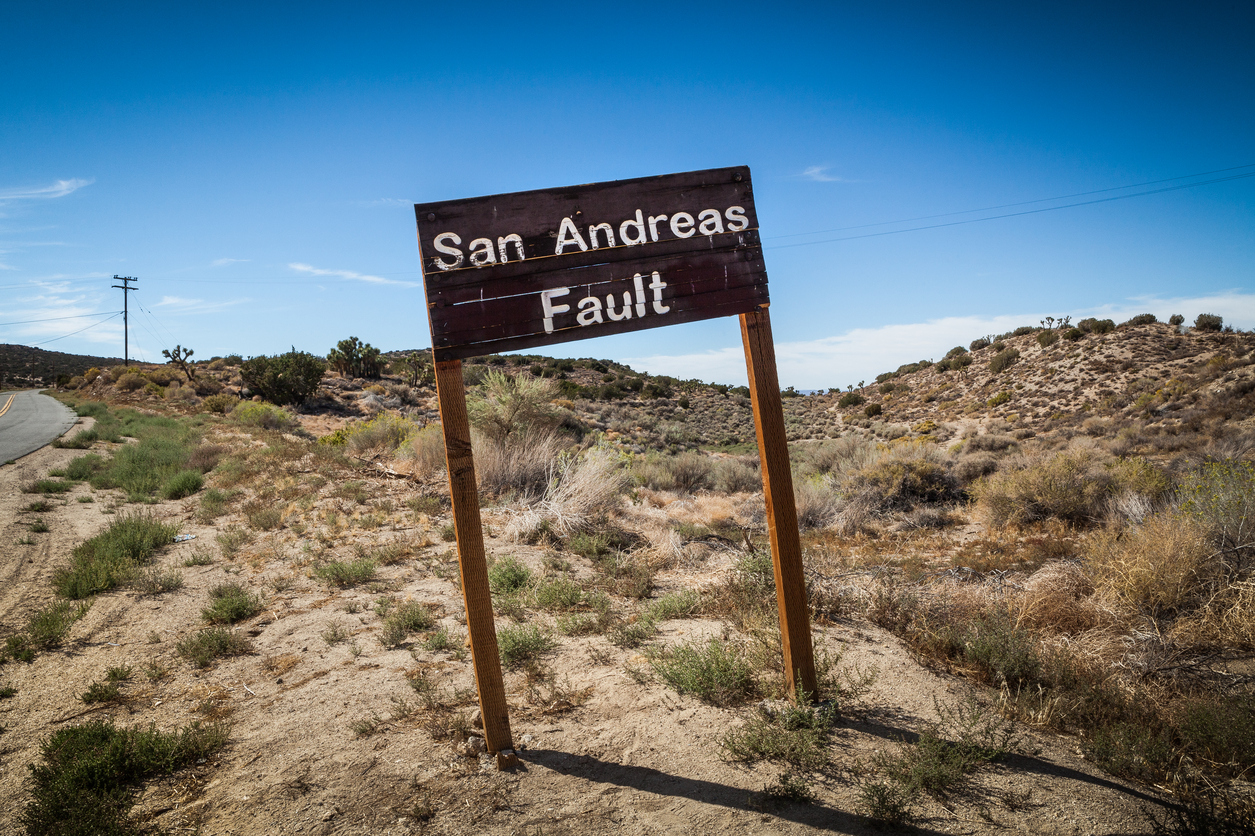 There are hundreds of fault lines in California that contribute to the state's diverse landscaping of mountains, forests, and beaches, but these tremors also cause regular earthquakes throughout the state. Currently, there are 200 potentially hazardous fault lines throughout California and over 70% of the state's population is within 50 miles of a fault line that will experience heavy shaking within the next 50 years. California experiences a significant number of earthquakes, with 11 instances per day and two to three potentially hazardous quakes per year.
This vast state is not only known for its high risk of earthquakes and wildfires, but it's currently the wettest it's been in the last century (up at least 5% since 1990), which has resulted in increased flooding and landslides that has affected thousands of homes. As recently as this year, mudslides have caused extensive and devastating damages throughout Southern California, with over $421 million in insured losses, 1,415 instances of damaged homes, and 240 commercial losses.
So while California is one long, large state, you might be wondering whether there is a significant difference in the weather between Northern and Southern California. You may think the entire state is sunny and warm year-round, however, this description better suits the southern part of the state. The weather there is warmer with temperature conditions mostly with hot and dry summers and areas of desert. In the northern part of the state, however, the weather is generally a bit gloomier and more damp with wetter winters and shorter summers. Despite the wide range of temperatures and weather conditions, most of California's many natural disasters to occur in both regions of the state, including wildfires, earthquakes, and land or mudslides. While California may be the most high-risk state for natural disasters, neighboring states like Nevada, New Mexico, Arizona, and Utah are also prone to weather problems.
Nevada, New Mexico, Arizona, & Utah are High-Risk Areas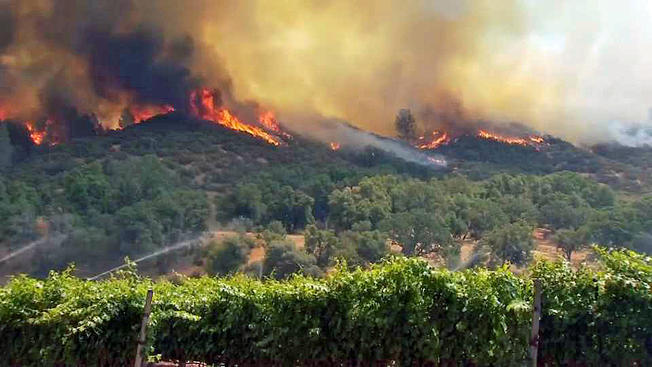 As you might expect with their reputations for being dry and hot, several Southwestern states are at high risk for wildfires including Arizona, New Mexico, Nevada, and Utah. Due to a combination of increased global warming and human interference, wildfires in general have increased in intensity during the past few years, destroying millions of acres of land. For example, last year alone there were over 66,000 instances of wildfire throughout the country. Additionally, due to human-caused global warming, the total amount of land destroyed from these fires is double what it would've been without human interference. Since around the mid-1980s, wildfires have been occurring at a larger frequency with an increased duration and as a result, wildfire seasons are now longer and more destructive.
While wildfires and drought are the main natural disaster concerns for New Mexico, Arizona, Nevada, and Utah, flash flooding is also a potential problems for residents throughout these areas. Mostly caused by tropical storms, winter frontal storms, and convention storms during the monsoon season, the excessive moisture leads to flash flooding and rising river levels that causes billions of dollars in damages each year. With so many natural and man-made disasters occurring in the Southwest region including California, the devastation and destruction these weather events cause make the need for quality restoration professionals in these areas that much more important. Furthermore, sometimes a disaster can present an opportunity for a Fresh Start.
Make a Difference in the Southwest with 911 Restoration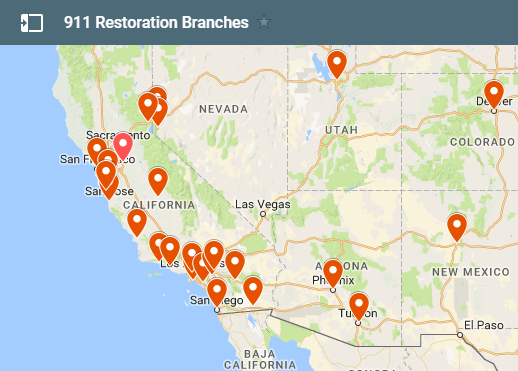 With wildfires, flooding, drought, and earthquakes being such a common and regular occurrence throughout the Southwestern region of the United States, disaster restoration professionals are greatly needed to help assist in the aftermath of these weather problems to help minimize property damages and restore people's property and lives to something better than before. If you're looking for new Southwest restoration franchising opportunities, you'll definitely want to consider one of these available franchise locations that need knowledgeable, caring, responsive, and professional restoration franchise owners:
• Central Valley, CA
• Tucson, AZ
• Santa Fe, NM
• Albuquerque, NM
• Orem, UT
In addition to these available franchise areas, we also have other 300,000-person populations in other cities in California, Nevada, New Mexico, Arizona, and Utah as well. By becoming part of our growing 911 Restoration franchise Fresh Start family, you'll be able to expand your business opportunities, have more control over your economic growth, and help residents throughout your community through unexpected and devastating tragedies like losses from natural disasters. Additionally, when you invest in a franchise opportunity with 911 Restoration, you'll be backed by a franchisor that is currently ranked as one of the top 165 franchises in the entire country, according to the 2018 Entrepreneur top franchise rankings.
Learn More about Southwest Restoration Franchise Opportunities
If you're looking for the best restoration franchise in the country, look no further than our 911 Restoration franchise. We currently have several franchising opportunities throughout the Southwest region of the country and we believe in providing all of our franchisees with creative and effective restoration solutions, unmatched growth opportunities, and a network of tools and services to make a positive change throughout your community. Learn more about our disaster restoration franchising opportunities by calling us today at (877) 412-5549 or by downloading our FREE franchise starter package here.